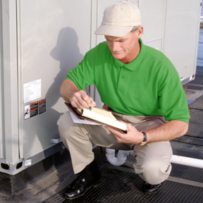 The worst of winter appears to be behind us, and now is the time to start focusing on preventative roofing maintenance. Snow falls were extremely heavy in many parts of the country; with spring precipitation on the way, this is the time to address minor concerns before they become major problems. In general, it is recommended to perform at least two roof inspections a year.
Your roof inspection should start with the basics, including clearing any debris off the roof that is left over from winter. In the case of TPO and other reflective membranes, this cleaning can be especially important in areas with hot, sunny summers. Clearing away dirt and discoloration maintains white roofs' solar reflectance and energy efficiency; an inspection and cleaning by a professional avoids inadvertent damage while restoring the membrane's energy-saving sheen.
After clearing your roof, it will also be much easier to identify any tears or punctures in the roofing membrane.
While obvious winter-related damage doesn't demand an expert evaluation, more common and less perceptible opportunities for water infiltration lie along the many linear feet of sealed seams crossing the typical low-slope roofing system.  Seams are more susceptible to leaks, and can benefit from the seasoned eye of a professional roofer who can also undertake minor repairs and resealing.
Also, since low-slope roofs are designed to drain within 24-72 hours, if you notice areas of your roof that are retaining water for longer periods, you should investigate closer for any problems. After a long winter, checking for drainage issues will be even more important – and any buckling of the roof that creates standing water could reveal more serious issues at the roof decking.
To ensure your roof held up after this year's winter season and to ensure your roof is ready for the harsh elements of next winter, a roofing inspection should be performed at least in the fall and spring. To read more about the tips we last provided for your fall roof inspection, check out our blog post It's not too early to plan for harsh weather part 1 and part 2.
For more information on GenFlex products and programs, visit www.GenFlex.com – to request training on product-specific installation and maintenance practices, click here.