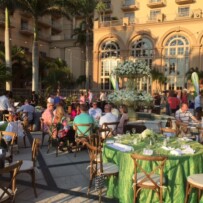 GenFlex distributors work hard every day to provide quality service and products. Their support is important to GenFlex and GenFlex contractors.
To reward our hardworking distributors, GenFlex has developed a special incentive program for those who go above and beyond with their loyalty to the brand and commitment to helping their customers.
To show our gratitude, GenFlex developed the Above All Distributor Loyalty Program.
"This year's program was particularly helpful in developing sales strategies to mirror with Genflex's new direction for the coming year. And also provided excellent networking opportunities with senior management at Firestone and GenFlex." (Paul Whelan, SRS Distribution)
The program's point system allows distributors to earn points through purchases from the three following categories:
Overall purchases of GenFlex products
ISO purchases
Accessory product purchases
All three point categories are added together to arrive at a combined point total.
The distributors earning the most points earn a spot at the Above All event, a three-day, all-inclusive trip. This year, the event was held April 24 – April 27 at the Five-Star Ritz-Carlton in Naples, Florida.
"The Above All Loyalty event was a first-class business and pleasure experience. It was a good mix of business meetings, industry information, and GenFlex goals and direction. Not to mention, we were able to do this at an incredible venue with great food, drinks and socializing after the meetings. This event is a great way of showing how much GenFlex appreciates the work and dedication of their distributor.  I look forward to continuing this great partnership in the years to come." (Tom Kaczrowski, Allied Building Products)
Learn more about our distributor loyalty program and how the point system works in our most recent Above All Marketing Bulletin.
GenFlex also works to recognize its most loyal contractors through the GenFlex PERX program. If you are a GenFlex contractor, you can earn points and redeem them for rewards using GenFlex products. Learn more about PERX.
For more information on GenFlex products and programs, visit GenFlex.com – to request training on product-specific installation and maintenance practices, click here.