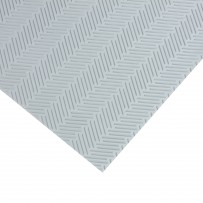 It is sometimes assumed that since workers aren't on a roof every day that worrying about how your roof handles foot traffic is not important. However, today more than ever, roofs are experiencing more foot traffic than you may realize. The typical building rooftop is becoming a crowded place. Technology such as Wi-Fi antennas, satellite and microwave dishes, cell phone communication equipment and solar panels have joined HVAC systems, pipes, ducts, conduits, skylights, elevator equipment and more, all requiring access and maintenance. Green roofs are also becoming more popular and definitely require accommodations for the additional foot traffic. Not to mention the roof itself needs to inspected and maintained on a regular basis. Eventually, that foot traffic can take its toll and lead to an early failure of your roofing system.
Walkway Pads are the Solution
GenFlex TPO Walkway Pads are made of thermoplastic material. Walkway pads have a slip-resistant textured-thread surface for safety and a smooth bottom surface allowing for easy welding to GenFlex TPO roof membranes. And, they are white in color to help maintain your roof's reflectivity.
Where to Install
Walkway pads should be installed at all access points such as ladders, hatches and doorways, and also around all rooftop equipment that requires access and periodic maintenance. Walkway pads should also be installed to provide walk paths to the equipment or points that may attract foot traffic. These paths can control traffic flow and should be designed with structure and safety as considerations. One thing; however, to keep in mind is not to install walkway pads over membrane seams.
GenFlex Peel & Stick Yellow Safety Strip
GenFlex Peel & Stick Yellow Safety Strip is a good companion product to the walkway pads. It can be used to designate a safety perimeter for your paths, roof edges, and around equipment and other hazards.
A building's roof is a major investment. GenFlex TPO Walkway Pads are a relatively inexpensive way to protect that investment from one of the leading causes of roof damage—foot traffic.  When combined with GenFlex Peel & Stick Yellow Safety Strips, they can also make rooftops a little safer by directing traffic along the least hazardous paths and by providing a textured walking surface to minimize slips and falls in all weather conditions. So make sure walkway pads are included in your new roof design or your next roof replacement or repair. Contact a GenFlex Sales Representative today for more information.