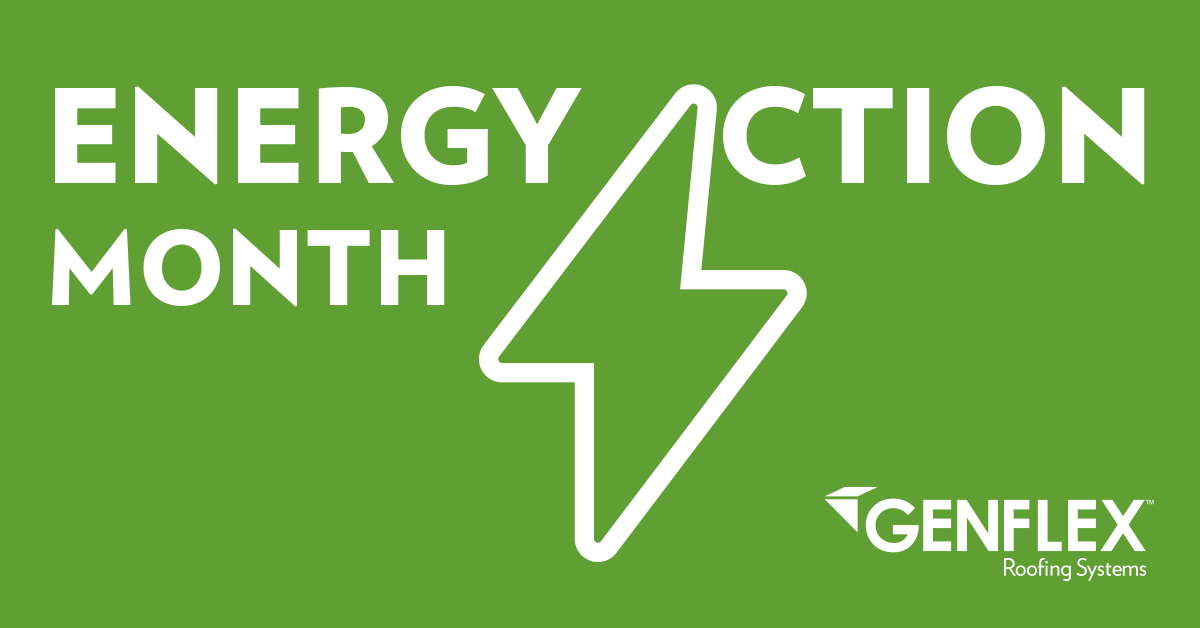 In 2011 and each year thereafter, the former President of the United States proclaimed October to be National Energy Action Month. This designation was created to encourage energy-saving actions and to reduce national energy consumption. The presidential proclamations called upon citizens of the United States to recognize October as Energy Action Month by "working together to achieve greater energy security, a more robust economy, and a healthier environment for our children." These are goals we think everyone can agree with.
GenFlex's Commitment
Every year, commercial buildings represent nearly one-fifth of all U.S. energy consumption, according to the Department of Energy. Roofing is a critical component to any building, but the benefits can be experienced far beyond the roof if we all play our part – from manufacturing to installation to performance, GenFlex is committed to reducing our overall carbon footprint.
While GenFlex continues to recognize Energy Action month every October, our efforts to produce products that are both energy efficient and safe for the environment are ongoing. Together with our parent company, Firestone Building Products, we have implemented more than 40 energy efficiency projects, including lighting, chiller and air compressor upgrades at our manufacturing facilities. Since 2012, we have collectively reduced energy used per tonne of product by 6%.
Our commitment to the environment does not stop once our products leave the manufacturing plants. In addition to reducing energy use, GenFlex offers reflective membranes and low VOC bonding adhesives that continue to help a buildings energy efficiency, as well as keeping our installers and building occupants safe on the job. GenFlex EZ TPO Peel & Stick™ self-adhering membrane emits zero grams of VOC compared to the 600–700 grams or liters associated with a standard bonding adhesive, and our White TPO and FlexWhite™ EPDM meet the Solar Reflectance Index measures established by the Cool Roof Rating Council. Both products are Energy Star® certified and qualify for points under LEED® v4, which took effect in October 2016.
Proper insulation is one of the most important contributors to a building's energy efficiency, and GenFlex offers a full lineup of roofing insulation products. GenFlex's polyiso creates a higher R-value per inch than many other comparable roofing insulations. The GenFlex HD ISO board, with an R-value of 2.5, enhances the roof's thermal performance better than any ½ inch wood fiber board, ¼ inch glass-faced ISO, or ¼ inch glass mat-faced gypsum board.
Actions You Can Take
The U.S. Department of Energy offers an interactive checklist of energy-saving tips on its website. Looking for more ideas on how you can conserve energy?  Follow #EnergySavingsTips and #EnergyActionMonth on Twitter.
GenFlex also offers many articles on our website where you can read more about cool roofs, roofing insulation, green or living roofs, and other energy-saving tips.
If you are researching energy efficient roofing materials for your next roofing project, contact a GenFlex Sales Representative today to discuss any of GenFlex's eco-friendly and energy-saving roofing options.